Unify Data from Your Physical and Digital Work Environments
We help you build a single source of truth for your entire organization and design augmented work reality, where physical or virtual components seamlessly integrate and compliment each other
Synchronize Physical & Virtual Workspace Data
Through leveraging multi-directional data flows companies can reveal unintuitive correlations among workspace physical factors, such as location, settings, on-site amenities, and employees' well-being, performance and behavior patterns.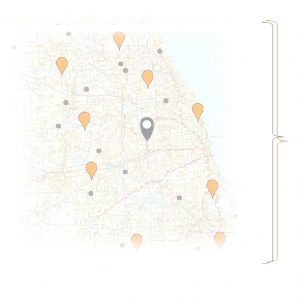 The whole variety of spaces for employees to work from: HQ, home, 3rd spaces
Your corporate collaboration and project management tools stack
Obtain 360 View of Employees' Workday Journey
Hundreds of thousands data components are being generated by the employees on daily basis, as they are performing their regular tasks using company's digital tools, as well as interacting with physical assets. We help you convert all that data into a holistic picture of employee experience, understand the interaction of both dimensions and deliver visual insights contextualized by role.
Your Hybrid Enterprise Intelligence Hub

We help you choose and organize your workplace tools as a unified system, which enables to radically shorten your learning cycle and obtain the most comprehensive view of what's happening in your organization in every location, at every moment of time..

The value of your proprietary data is compounding with every day, creating a base for running pilot experiments, hypothesis validation and benefiting from short learning cycles.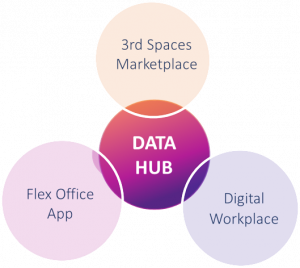 Data is captured in automated and effortless way across all the digital and physical touch points and streamed to a single enterprise intelligence data hub.

Physical factors and infrastructure

Prices & packages from multiple flex space providers
Employees' search patterns: key words, filters, parameters
Advance vs last minute bookings, cancellations patterns 
How employees rate their experiences at each workplace
Equipment used: video / audio conferencing, projection screens, etc
Services used: concierge, mail delivery, 24/7 access, lunch on-site, etc
Amenities used: phone booth, private locker, gym, etc
Preferred ambience: strict vs casual, visitors allowed, pets allowed, etc
Price comparison for most consumed services & amenities
Break out and networking spaces: shared kitchen, lobby, terrace 
Other companies & residents using the same facility  
Space quality: A/B/C-grade building, ergonomic furniture, lux finishing
Physical parameters: natural light abundance, level of noise,  etc
Surrounding area: proximity to public transport, parking, child care centers, grocery, walking zones, etc.
Geolocation and Commute
ERP, Accounting & Budgeting
Sales & Customer Communication
Internal communication
Project Management & Productivity
Remote Synchronous Work
Let us help you define your winning workplace transformation strategy